Deep Creek Metal Sales – Swanton, MD
Deep Creek Metal Sales in Swanton, MD, offers a variety of trim styles in all the popular residential and commercial profiles and colors you need. Choose the best option for your metal roof or siding project. Contact us to order: (301) 859-4080. Stop by for a free color and product sample. We offer 24 hour turnaround time on metal roofing and siding.
Custom Trim Available – Contact Us for More Information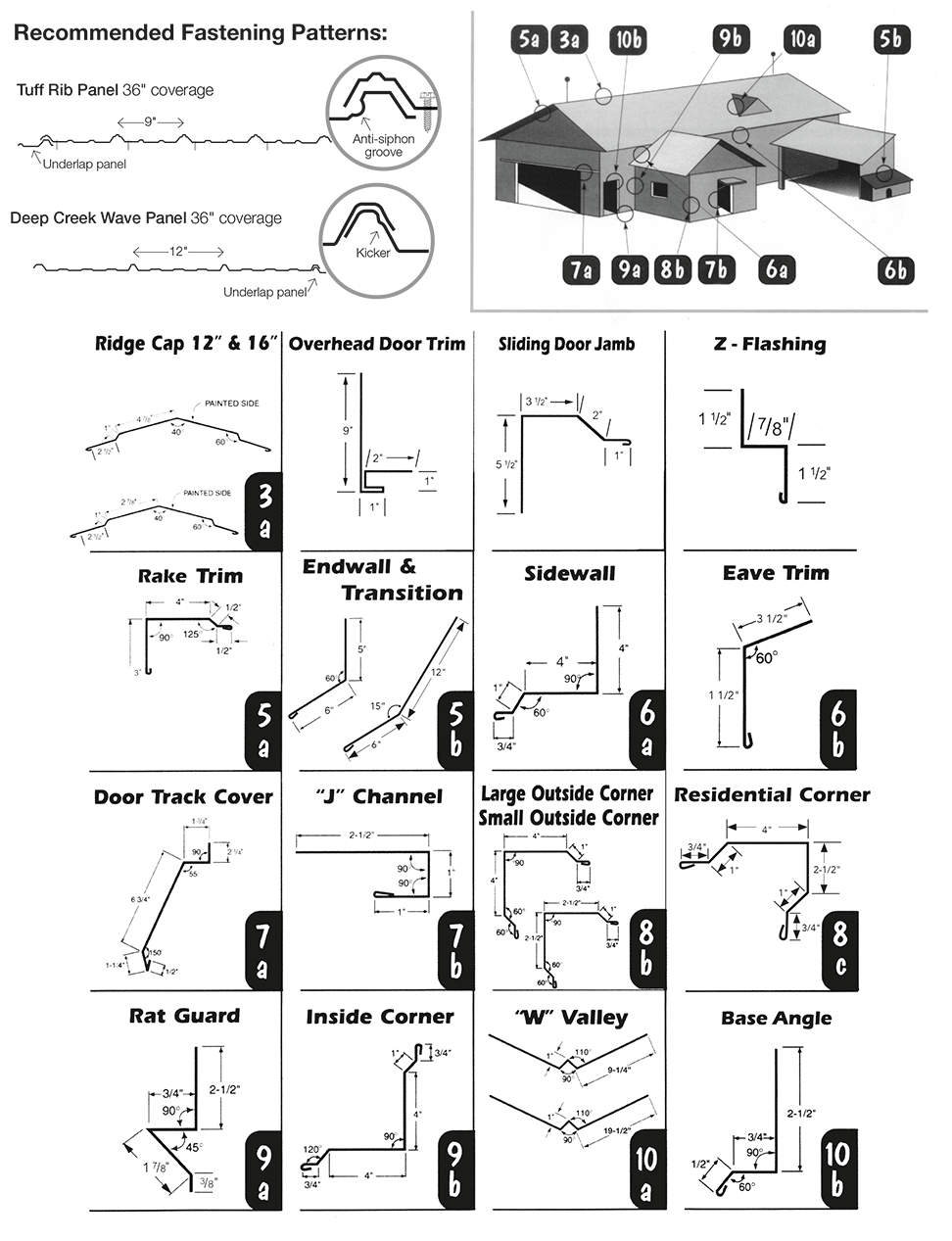 G-Rib Trim, Standing Seam Trim & Commercial Trim
A. Ridge Cap (12" & 16")
B. Overhead Door Trim
C. Sliding Door Jamb
D. Z-Flashing
E. Rake Trim
F. End Wall & Transition Flashing
G. Sidewall Flashing
H. Eave Trim
I. Door Track Cover
J. J-channel
K. Large Outside Corner
L. Small Outside Corner
M. Inside Corner
N. House (Residential) Corner
O. Rat Guard
P. W-Valley Flashing
Q. Base Angle
Double Track Cover
F-channel
Upper Flu Flashing
Lower Flu Flashing
T-bar
Z-bar
Corner & Gable Trim
One-Piece Soffit/Fascia
Overhead Door Trim with J-channel
Overhang Trim
Corner/Rake
Drip Edge/Starter
Dual Pitch
Clear / White Polycarbonate Skylight Panels (8', 10', 12' & 14')
Inside Closure
Outside Closure
Pipe Flanges
Butyl Tape
Vinyl-backed Insulation (6' x 50')
Double Bubble Insulation (4' x 125'')
Tek Screws
Wood Screws
Pop Rivets
Touch-up Paint (6 oz. aerosol can)
Color Matched Caulking
Custom Trim Available – Contact Us for More Information
Contact Deep Creek Metal Sales
We Deliver! Ask Us for a Delivery Quote
Stop in to see us or contact our friendly sales staff for assistance selecting materials for your upcoming project. We carry a large selection of trim styles, so we can provide the perfect look for any residential, commercial, and industrial roof and side wall application.
Homes
Businesses
Storage Buildings
Garages
Commercial Structures
Portable Utility Buildings
Commercial Exterior Doors
Commercial Walk-In Doors